For Beenie or beanies with Lids / Visor, click here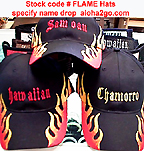 Stock Code: Hats-Flame
Hawaiian, Chamorro, Samoan, Watufaka
Assorted Color hats & name drops
also customized to specific island/culture you like


Stock Code: Hats-All-Laulaha
Hawaiian, Chamorro, Samoan, Watufaka
Assorted Color name drops
also customized to specific island/culture you like





Stock Code: Visor-Front-Laulaha
Hawaiian, Chamorro, Samoan, Watufaka
Assorted Color in visors and name drops
also customized to specific island/culture you like




Stock Code: Hat-Front-Laulaha
Hawaiian, Chamorro, Samoan, Watufaka
Assorted Color in Hats and name drops
also customized to specific island/culture you like




AUTHENTIC FLEX FIT
ISLAND HATS



Samples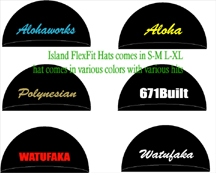 Island FlexFit Caps
- accept no substitude, Authentic FlexFit Caps..
how for order your Island Caps.
- Pick size comes in SM-M L-XL
- Pick hat Color, comes in black, red, tan, navy
- Pick lettering style as shown above.
like script, block, or Old english

- Pick Text & the color of Text
anything you want for say
Island Girl
Maui Girl
Hawaiian
Molokai Style
Kauai Girl
Chamorrita
Tongan Girl
Teine Samoa
Maui Grown
Oahu Built
671Built
Samoan
Hamo Built
Island Style
Palau Style
Micronesian Style
Island Princess
Polynesian
and more...just tell us
that's it...
it ships out in about 1 week from time of order
each customed
FLEX Fit hat is
$19.98 +s/h


- Come see our showroom in Vegas


- more Hats here
- call toll free
1-877-398-1688 now!

Stock # flexfit-customhats order this item







Ordering Instructions
Toll-Free Call (877) 398-1688
or (702) 320-6376
Call for the latest prints availability
Shipping & Handling
- Shipping is $10 for USA. see shipping and return policy
- It will take Approx. 1-3 weeks for delivery
- Questions? or call 702.320.6376

On order, please specify
Total Price (including Shipping)
Stock Number



i.e